STAIR STRINGER DESIGN CALCULATOR PROFESSIONAL - Screenshots
DESIGN Tab ---
Entering your Measurements

Measure your wood and opening, and put
the measurements in the blue boxes.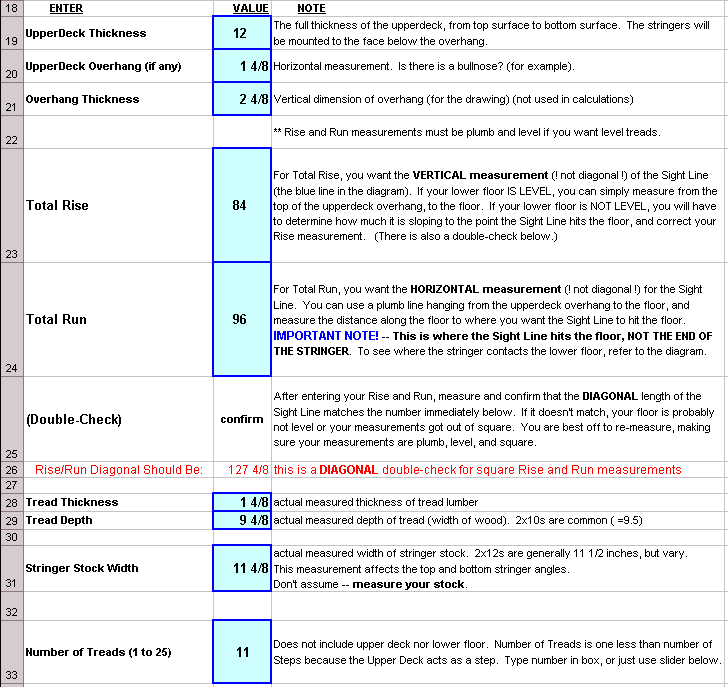 Checking Your Calculated Values

The red boxes automatically calculate important values
that you need to build your stairs. Every time you change
a blue value, the red boxes are updated instantly. Check
your numbers and adjust the blue values if necessary.
Do you have enough tread overhang? Is the angle of
the staircase low enough? It's all right here for you.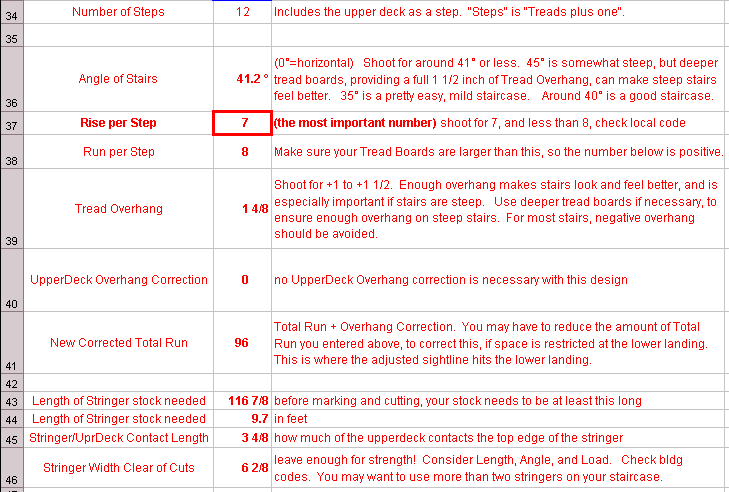 See Your Staircase Design in a Drawing

Besides checking values in the red boxes, you can also see your staircase
in a live diagram. This diagram updates instantly whenever you make changes.
Here is a design with 11 treads: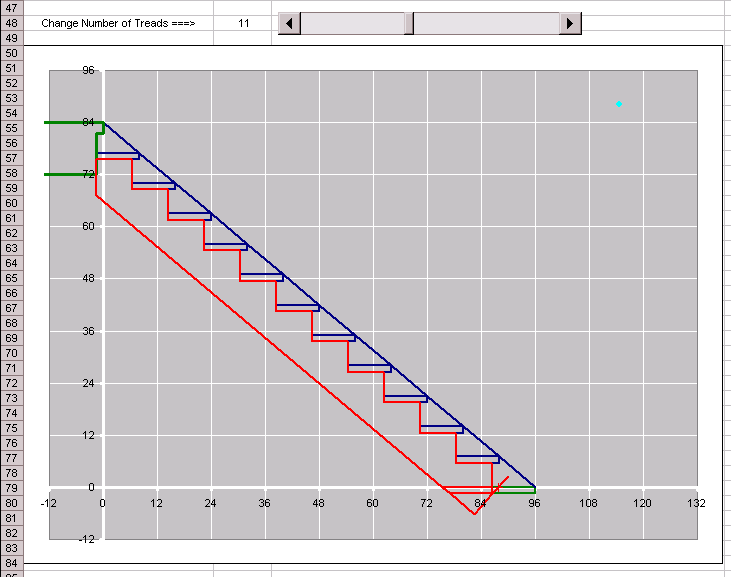 Click to Instantly Change Stair Tread Number

Change the number of treads just by clicking. You'll instantly see how your
changes affect your design. (Non-functioning screenshot below.) Here is a
design with 12 treads. Thousands of calculations were done instantly, and
show tread overhang grew, and Rise Per Step got smaller. The red boxes
will give you the actual values they changed to.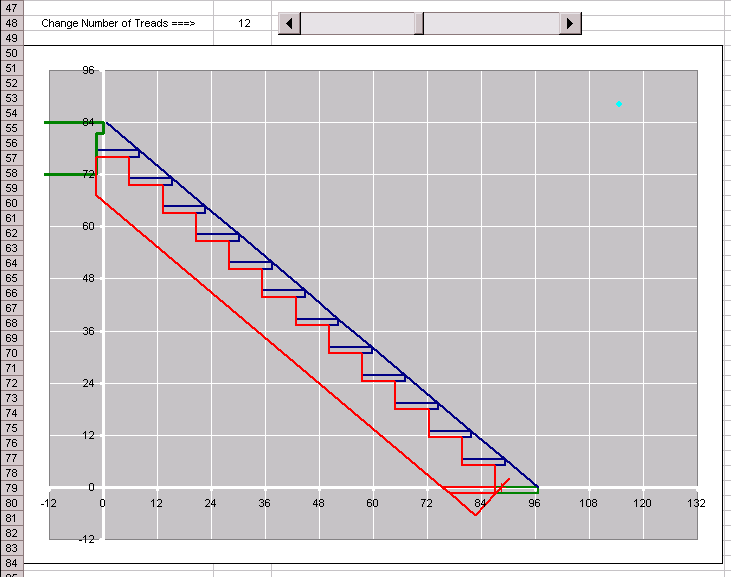 CUT MAP Tab ---
Diagram of stringer to help you layout your marks

This is the MAP tab and is provided simply
to give you a visual reverence. The next tab
walks you through marking and cutting.

LIST TAB --
Set up your lumber and mark the valley line.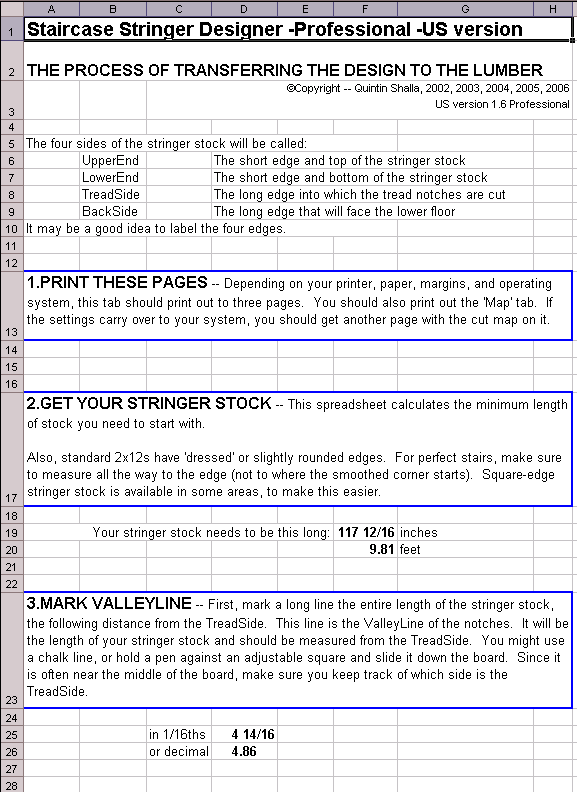 Mark the main notch points.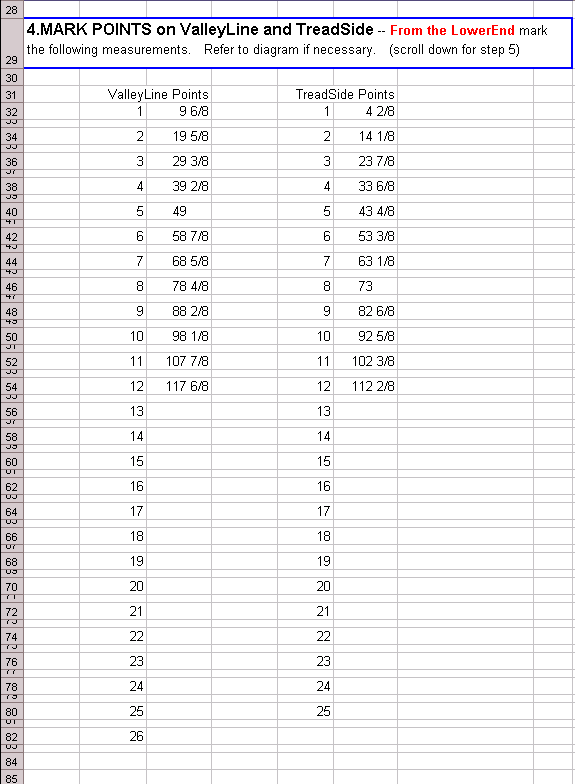 Connect the dots and cut out your stringers.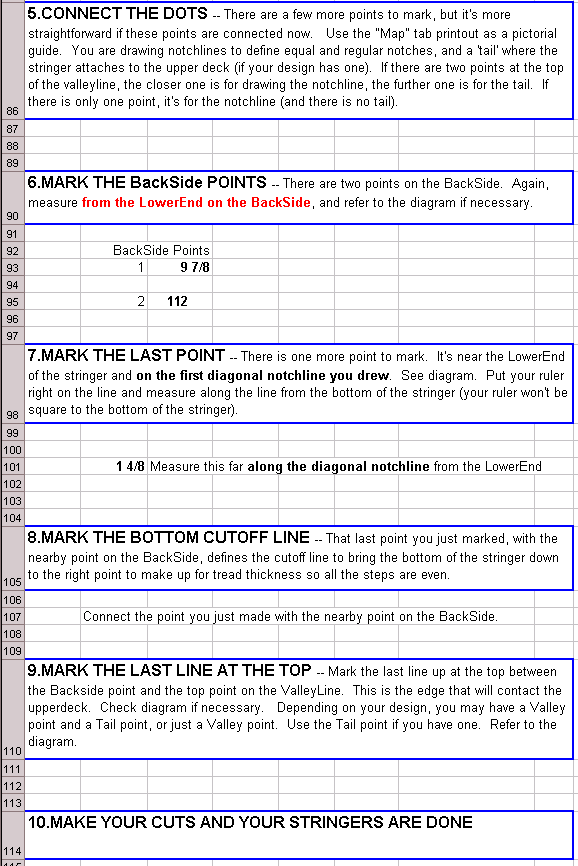 Ready to Build Your Stairs?

This is a digital download. There is no physical shipment and no shipping costs.
You will be able to download it and design your staircase in just a few minutes.
$12.99.


30-Day Satisfaction Guarantee

Immediately after payment you will be taken to a download page,
As a backup procedure, you are also immediately emailed a download link.

If your firewall is set to "high" you may have to turn it off to download the program.
-----------------------------------------------------------------------------------------------


thanks,
Quintin